Enrolment to Healing from Heartbreak now open
The Deepest Pain I Ever Experienced Was When My Marriage Crumbled In A Fury Of Betrayal, Lies, And Deception…
(And If You've Ever Felt Devastated From A Relationship, Read This.)
If you're feeling rejected, abandoned, or terrified that you're going to be alone forever, you might be on the threshold of a personal awakening.
If you're skeptical and wonder how on earth this could ever be a beautiful experience, stay with me and…
I'll show you how going through a breakup or divorce can be one of 
the most beautiful, liberating experiences a person can ever have.
Hi I'm Shay
The deepest pain I ever experienced was when my marriage crumbled in a fury of betrayal, lies, and deception.
I lost everything
My money, many friendships, all of my attachments. Even my beloved cat Maya disappeared.
I was in the deep-end.
I got married when I was in my early 20's, to a guy who really wasn't an ideal match for me. We weren't in love, but he was "safe" and I had never really felt safe before in my life.
We didn't have good chemistry, but we were best friends – and at the time, I believed that even if we couldn't make it work, our friendship would endure.
He left me for another woman.
There were nights when I went to sleep in so much heartache, I actually believed I might die in my sleep.
I'm not even kidding.
If you're feeling grief and sadness like this, I have something for you… keep reading…
My divorce put me face to face with my fear of abandonment – a deep wound I developed through a painful relationship with my mother.
I chose this 'safe' but unhealthy marriage to fill a void in my heart and when he left, I was initiated into my healing work….
…but it didn't start out that way.
When he left, I gained 30 pounds in less than 2 months.
My skin broke out all over my face and shoulders, my hormones took a dive in the wrong direction and when I went to the Naturopath for tests, it turned out the only thing I had left was cortisol… stress and fear had taken over.
The body talks, even if we're not listening…and the signs that we've gone into crisis mode are:
Weight gain or loss
Skin breakouts
Exhaustion
Insomnia
Constant crying, anxiety, panic
Overwhelming thoughts of being alone forever
Dreaming about them constantly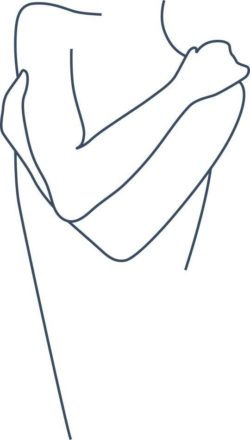 All of these physical symptoms happened because I didn't know how to truly process my grief and utilize the pain I was in for deeper healing.
I don't want you to have to go through what I went through, on top of the emotional pain you're already in.
Pain is a powerful teacher…but if you have an abandonment wound (and most of us do, even if we don't realize it) then the pain can be completely overwhelming.
You can't just "get over it."
Or "let it go."
Or just "let time heal your wounds."
as some spiritual teachers may suggest
It wasn't until I learned how to consciously process my grief that my physical symptoms went away.
It wasn't until I fully acknowledged my abandonment wound and did the inner work that my heart healed and I felt whole.
I had to acknowledge my inner-child and all of the pain she endured.
I had to learn to feel my feelings instead of stuffing them or denying them, and I spent countless hours doing inner-child work, breath work, shadow work, and healing plant medicine ceremonies.
My breakup was my spiritual awakening. I wasn't sure I was going to survive it. But looking back, it was the best thing that ever happened to me.
If you're in that space now, of heartache, loss, grief, and utter darkness, then I want you to know you're not alone…
And if you'll let me, I want to guide you through this journey in an intentional way so that rather than falling victim to your painful emotions, you can be Phoenix rising from the ashes…
…and through this process of deep healing, you'll be able to clear blocks and make space to create a truly Conscious Relationship in the future.
Just like I did.
I truly believe that if you're willing to go on the journey into your own heartache, you have an opportunity here to become the most authentic version of yourself you've ever been…
Which is why I created the program that I so desperately needed when I was in your shoes…
A 60 Day Journey into the Medicine of Heartbreak
Consciously process your grief (so you don't have to experience the intensity of the physical symptoms that I did)
Regain Your Confidence, Clarity, and Sense of Empowerment
Stop Chasing, Fantasizing, or Obsessing Over them
Learn how to Navigate Intense emotional waves without losing yourself in the process
Get out of their waiting room and stop wondering if you should be patient while they "find themselves"
Take back your power if they are giving you mixed signals or love-scraps
Step into the most empowered, clear, and healthy version of yourself
Move through the grief, fear, and anger that accompanies a breakup or divorce
…and I created it so you don't have to go through this pain alone.
This program is for you if you feel:
Broken hearted
Lost and alone
Frantic and unsure of how to manage the emotions coursing through your body
Afraid you'll never get over them…
Desperate to get them back and let them walk in and out of your life whenever they please because you love them SO MUCH
This program is not for you if:
You feel complete with your break-up
You're not ready to break the cycle you're in
You're fine letting them have all of the power over how you feel
You don't believe you have anything to do with your relationship patterns and think it's all about the other person
"Sheleana's words were so deeply supportive for me when my marriage ended. They helped me to reframe my perspective from seeing myself as someone who had failed to make my marriage work, to being someone with a deep understanding of what it means to rise again after losing something you'd used to define yourself. Sheleana's words supported me in renouncing the shame I had been conditioned to feel, and defining my story for myself. I don't have the words to articulate how much Sheleana's writing meant to me during that time. I can only say that I will be eternally grateful."
Dené Logan Selkin
Associate Marriage and Family Therapist
"Sheleana's work has been instrumental in my understanding of how our childhood and human experiences shape us as adults. I remember reading her posts years ago and feeling like she was speaking directly to me. Her ability to explain complicated topics in relatable and simple ways is a gift. I am forever grateful for her vulnerability and service to those of us that are lost or curious on the path…. and need a guide."
Danica Patrick
Former professional racing driver, entrepreneur and author of the book "Pretty Intense"
Healing from Heartbreak was created by Sheleana Aiyana, founder of Rising Woman.
Rising woman is a community of over 2 million seeking to expand their self-awareness, heal their relationship wounds and reclaim their true nature.
Guarantee
We have a 100% Money Back Guarantee!
Enjoy this program for 60 days. If after 60 days you don't see the value we will refund your payment.
Frequently Asked Questions
What happens after I enrol?
Once you've purchased the program, you'll receive an email with your login details for the Rising Woman's members portal, where you'll begin your journey with instant access to your first module.
How long will it take for my heart to heal?
It's different for everyone but having your break up recovery plan will expedite your healing journey and set you up to heal faster & with intention.
Does the program ever expire?
No! You will have access to all videos and materials forever.
What if I don't like the program? Can I get a refund?
I'm making this investment completely risk-free! If you go through the program and decide it isn't for you, just send an email within 60 days to [email protected] for a full 100% refund.
I know what it's like to cry yourself to sleep.
To wonder if it's too late for you to find love.
To think you'll never be able to feel love for anyone else.
To dream about them, to want to call or text them, and then to feel completely pathetic when you do and they either don't pick up, or reject you.
Or to wonder WHY you weren't enough for them, WHY they hurt you, WHY they left…
Trust me. That thinking will not get you where you need to be….
You can't set timelines on grief.
I know because I tried.
But sometimes we need help letting go.
I'm here to help you do just that…
To get over your ex
To move through the heartache
To let this pain awaken you
And to be your supportive ally. To help you feel SAFE in your body, to feel your emotions without letting them wash you away…. And to help you reclaim your power as you work in tandem with me on Becoming the One.
During this time, it's normal if you don't feel like yourself.
Breakup and divorce can act as a spiritual catalyst, turning your whole world upside down!
The sad truth about all of this, is that some people will never make it out of their own personal hell and instead become bitter, resentful, and closed off to any potential for love in the future…
They will remain stuck forever because they aren't willing to move toward the healing path…
But something tells me you aren't one of those people, sure you have the potential to be (like we all do) but if you're here, it's because deep down inside, you probably already know that you're here for something more…
That within all of this, there is medicine.
Healing. Truth. Freedom.